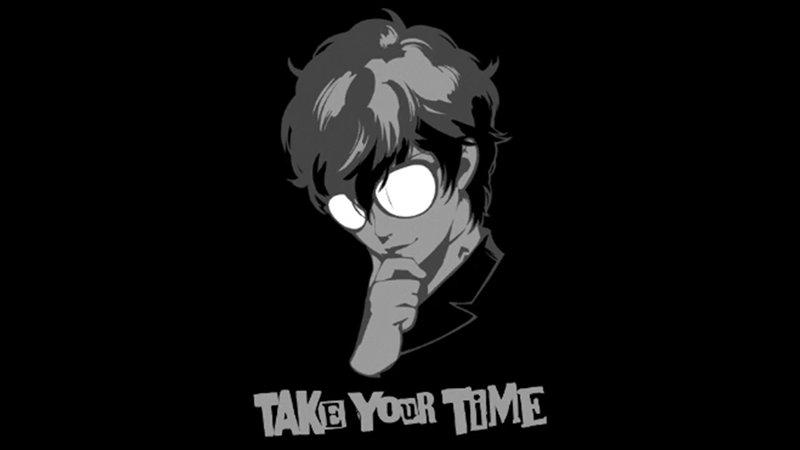 ---



THE PHANTOM THIEF APPLICATION


Name: Luca Levesque (Alias: Joker)
Apparent Age: 26
True Age: 26
Sex: Male
Personality: Luca, after having been nearly killed once, and then definitively killed has decided consciously and fully that he is tired of humanity's shit. He cares no longer for human life, and thinks it's a waste of space. However, because he favors gambling, he also has an ironic sense of 'justice' and believes life, riches, and all should be left up to chance and fate.

No longer appeased with pleasing the masses as he once did, he believes that the entire world is his for the taking, and its treasures be left to him. Of course, if fate permits it. He still relies on his luck, and affinity for card manipulation to make his twisted desires a reality. He may also want something a little more than just riches and infamy, who knows?

He'd still rather not fight, in fact, he's more skilled with manipulating the perception of others instead of just outright killing them or hurting them. He finds it amusing to see how easily humans can be fooled, and can do so easily with the cards of his Arcana.

Still, an old habit of his is to steal, to gamble, and to rig the game so that he wins frequently. If people question him, he's more than eager to show the silly humans that he's still well and fair. At least they can't prove him wrong.


---



CHARACTER APPEARANCE


Height: 5'11
Weight: 165 pounds
Physical Traits:


Joker and his mask both appear as seen above. His default facial expression is that sly grin that tells you he's up to no good. He'll solemnly swear to it too. No person could mistake those crimson eyes of his, the tousled, short black hair that screams rogue thief. His jacket is perfectly tailored, and the outer layer is intended to be oversized and flamboyant for show. What you won't ever notice is the pocket on the inside of his jacket, which holds his deck, the Arcana.



---



FIGHTING STYLE


General Fighting Style: Luca prefers not to fight at all and places an emphasis on stealth and not getting caught. He can and will use illusions, disenchants, and other veils to confuse and distract his opponents.
If the need arises however....

Strengths: Speed, Reflexes, Spiritual Control, Sensing
Weaknesses: Strength, Durability, Hakuda, Zanjutsu

Boosts: x4 to Speed, Reflexes



---
SINNER POWERS
Arcana de Luca




In the order listed, from 0-22, Each Arcana card and its meaning(s).
Keep in mind that this is for RP purposes only, and can't be used for anything else. Some of these cards will still have a use outside of an RP tool. If for any reason Luca loses or leaves a card somewhere, there will be a replacement of any card(s) lost by the next post.

Most of the time, this will mean that Luca will pull out a card to set a sense of nuanced meaning indicating the underlying tone of a conversation or interaction. Otherwise, it may be left as a 'calling out' of sorts. Luca can choose to stick a card to a surface in any position, and also choose whether or not his energy signature will be left or not when he does. This allows him to communicate and when neccessary, retain the air of mystery about his identity.

Fool: New Beginnings, Spontaneity, Free Spirit
Reversed: Foolishness, Naivety, Risk-taking.

Magician: Power, Skill, Concetration, Resourcefulness
Reversed: Manipulation, Poor Planning, Wasted Potential

Priestess: Intuition, Mystery, Subconcious
Reversed: Hidden Agendas, Hidden or Supressed Thoughts

Empress: Femininity, Beauty, Abundance
Reversed: Dependence on Others, Loss of Muse

Emperor: Authority, Structure, Strong Foundation
Reversed: Domination, Strict Control, Inflexibility

Hierophant: Group Unity, Tradition, Beliefs
Reversed: Restriction, Challenging Conformity

Lovers: Love, Unity, Values, Choices
Reversed: Disharmony, Misaligned Values

Chariot: Control, Willpower, Victory, Determination
Reversed: Lack of Control or Direction, Aggression

Strength: Strength, Courage, Patience, Compassion
Reversed: Weakness, Self-Doubt, Lack of Discipline

Hermit: Searching, Being Alone, Self-Guidance
Reversed: Isolation, Loneliness, Withdrawal

Fortune: Good Luck, Cycles, Destiny, Turning Points
Reversed: Bad Luck, Out of Control Situations

Justice: Justice, Truth, Cause and Effect, Law
Reversed: Unfairness, Lies, Lack of Accountability

Hanged Man: Suspension, Restriction, Letting Go, Sacrifice
Reversed: Martyrdom, Indecision, Delaying the Inevitable

Death: Endings and Beginnings, Change or Transition
Reversed: Refusal to change, Inability to Move on

Temperance: Balance, Moderation, Purpose, Meaning
Reversed: Imbalance, Excess, Lack of Long-term view

Devil: Bondage, Addiction, Materialism
Reversed: Detachment, Breaking Free, Reclaiming Power

Tower: Disaster, Sudden Change, Revelation, Upheaval
Reversed: Avoiding Disaster, Fear of Change

Star: Hope, Renewal, Serenity, Inspiration
Reversed: Lack of Faith, Despair, Discouragement

Moon: Illusion, Fear, Anxiety, Insecurity
Reversed: Release of Fear, Unhappiness, Confusion

Sun: Fun, Warmth, Success, Vitality, Positivity
Reversed: Depression, Lack of Success, Negativity

Judgement: Judgement, Rebirth, Absolution
Reversed: Self-Denial, Refusal of Self-Evaluation

The World: Completion, Accomplishment, Travel
Reversed: Lack of Completion or Closure

Ability Name: Calling Card
Description: Some of the cards listed above have effects that can be activated upon a single draw. Effects and cooldowns are as listed below. Multiple cards can be activated during the same post.

Moon: Can summon a temporary object that cannot be seen through, but can be crushed with as little as a Hadou 40, think of it as a standard Bakudo 26, except it's a wall, a door, or whatever suits the situation at that time. It can't be ridiculously huge like an entire building, but can fill a space if need be, otherwise the object summoned can be just about anything inanimate. Duration: Indefinite/Until dispelled or broken. Cooldown: 1 post

Hermit: Can make self and any allies undetectable by spiritual sense. Functions like Kiyo's spiritual stealth. This means that his and anyone within 2 meters of him 'feels' like a normal human, this can only be used every 3 posts.

Strength: The next physical strike for Luca and each of his allies will hit as if they had physical Strength as a strength, and at a multiplier of x4.

Chariot: The next physical strike received by Luca and each of his allies will be received as though Durability was a strength, and at a multiplier of x4.

Priestess: Can muffle any sound that would be made by Luca or his allies for the duration of the post, cannot be used during the next post.

Magician: Can grab onto up to 2 allies and make a short dash, about 2 meters. This can travel through any amount of walls or obstacles. This is available once per post.

Ability Name: Phantom Sight
Description: Luca can see with his spiritual senses, through walls, and obtain a picture of an area of 5 meters in radius by way of barriers, walls, structures, and the like. This effectively allows him to map out an area. If need be, he can extend this to 10 meters, but can only do so every three posts. In either case, he can detect the spiritual presence of other people, spiritually aware or not, and determine how much of a threat they are.

Ability Name: Card of Destiny
Description: Luca selects a special card, that of the Judgement Arcana. (Card #21 for reference) It can be placed anywhere, be it on a person, surface, or simply thrown, then triggered either by Luca, or whoever touches it. It will explode when triggered, for a Cero's worth of damage. Depending on what the card was stuck on, the damage concentration will be applied differently. If picked up, the card will concentrate all the damage within a 6 inch radius. If applied to a body, the damage will be strongest on the area that the card was placed, and damage will be evenly spread otherwise. This also means, however, that if the card is placed closer to the left side of someone's body, that the damage will be heavier on the left side. If the card is placed on a surface or structure, the damage will make a hole big enough for an average person to slip through. Cooldown: 1 post.



---



BACK-DROP


History: [History goes here.]

Side Notes: I do plan on teaming up Kiyo Meru with Luca quite often, so that may need to be taken into consideration when evaluating his kit.