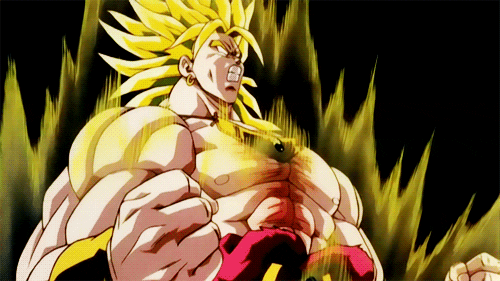 ---



THE SINNER APPLICATION

Name: Broly
Apparent Age: 39
Sex: Male
Personality: Broly's personality is similar to that of a psychopath, as he generally exhibits tremendously uncontrollable rage, and is uplifted by the very idea of bringing destruction and inevitably crushing his enemies. He loves nothing more than to destroy things, as shown by his wanton destruction of cities for little more than intimidation. Broly also has a tendency to toy with his victims, as evidenced by his statement that, and "If you'd just let me kill you all before, you wouldn't be dealing with this pain now."

Broly enjoys playing with his feeble foes with sadistic sarcasm, often teasing his opponents with a plethora of "free punches". Broly himself rarely has anything to fear from any opponent he faces, which may have contributed to this. Broly even killed his own father ruthlessly for trying to abandon him.

Broly holds no real compassion for his victims being largely sociopathic, to him killing someone is as easy and fun as killing time, with this being he is completely merciless, you could be a handicapped child and he would squash you without a second thought. However he does prefer to fight those much stronger than a child. He finds thrill in combat, and having his life on the line against someone else's. He doesn't hold the proper fighting honor so if you fall down, he will still strike you. He fights without thinking of any rules in the book.

Likes: Carnage, Death, Battle
Fears: Fear of not being able to cause Violence (So fear of imprisonment)


---



CHARACTER APPEARANCE

Height: 6'0" Normal Form| 7'7'' 70% Form |9'3" 100% Form
Weight: 285 lbs Normal Form| 362 Lbs 70% Form |450 lbs 100% Form
Physical Traits:
Normal Power -



70% Power -



100% Power -

---



FIGHTING STYLE

General Fighting Style: His style is most easily described as "doggedly pursuing the opponent." He often uses grabs, stomps, clotheslines, and uppercuts as opposed to quick furious punches and kicks, yet he is still swift enough to do the quick attacks if he wishes. Due to this it resembles wrestling in certain ways as opposed to straight up brawling when Broly fights. He is a complete and total melee fighter. Dirty fighting pleases him and he'll use his brutish body to make it super effective.

Strengths: Strength, Speed, Durability
Weaknesses: Energy Control, Sensing, Defense

Boosts: Strengthx4, Durabiltyx4, Speedx4, Reiryokux3, Staminax4, Reiatsux3

---



SINNER POWERS


Ability Name: Regenerative Healing Factor
Description: Broly has Moderate Regeneration similar to a Hollow.

Ability Name: Wild Sense
Description: Once per four posts he is able to detect an attack and avoid it through sheer speed even if it would otherwise seem, implausible. This doesn't work on "Finals"

Ability Name: Trap Shooter
Description: Broly is able to fire "Bala" sized, shaped, speed and powered attacks from either hand at will simultaneously. These blasts have homing.

Ability Name: Eraser Cannon
Description: Broly charges a cero's worth of power in his hand like a hollow charges any normal cero and then releases it in a Ball that is 10 by 10. He can use this as often as a hollow can use Cero. It moves at the same speed and explodes like most normal cero.

Ability Name: Blaster Meteor
Description: Broly encases himself in a bubble of his own energy before releasing six dozen (72) homing bala at any, all, or specific opponents. Four Post CD

Ability Name: Omega Blaster
Description: Broly condenses energy into a tiny ball which he can then throw at a target at bala speeds, it is bala shaped and sized at this time, when Broly chooses, or it hits "anything" he can expand it into a giant 40 by 40 sphere of green energy. This ball does damage equal to a gran rey cero on it's own and then proceeds to explode for another two cero for one hundred feet. This ability has a five post CD.

Ability Name: Super Explosive Wave
Description: Broly releases a large 150 feet explosion of raw hell energy outwards with the force of a gran rey cero. The explosion lasts several seconds and the ability has a four post cooldown.

Ability Name: Gigantic Destruction
Description: Broly fires a giant green energy beam on par with a Ceros Oscuras. The only difference between this beam and a hollow's real oscuras is the color and the "Feel" that the energy is from a sinner. This ability has a four post CD.


---



BACK-DROP

History: When he was born his mother died giving birth so he never knew her. His father blamed him for this but only after seeing how horribly violent Broly was towards others. Even as an baby who could barely walk he would purposely harm any of the pets in the house he was in. As a child in kindergarten he would bully and harm other kids in class and on the playground. Simply saying he was having fun when questioned about it. At one point he picked up a chair and hit another child with it for poking him during a movie to ask a question.

This started the long and repetitive process of putting Broly in mental hospitals. Which happened six more times throughout his childhood. His school record continued to be horribly tarnished with violence even though he was managing, for what he could actually be there to turn in, to get good grades. Mentally there didn't seem to be anything wrong with Broly, hence the grades, he just loved to be a violent person.

When he reached high school however it only got drastically worse. He was put in an alternative school because of his violent record and that meant he was now surrounded by a classroom of students who had the "same" issues he did. Did this make Broly calm down? HELL NO. Broly went on a RAMPAGE the instant a couple of them tried to gang up on him and nearly killed the entire classroom bare handed. A bunch of the teachers had to restrain him in order to get him under control! However this was overlooked because in this ONE case.. he had been provoked and struck first so they let it off as self defense. ...What a mistake they made. This new knowledge that being able to get away with it if attacked first only made his record of bloody violence go to a new height because he would purposely make sure they provoked him and attacked him out of anger so he could break them.

Eventually, somehow, he managed to graduate highschool.. and thats where the real problems began. Now that he was 18 he had access to things he didn't have access to before and quickly became involved with gangs, mafia's, and criminals in order to satisfy his own malicious need for violence. By this time he was so used to fighting all the time that his body was built like a solid rock and most of the people he worked with loved that. When his father found out about his son's criminal activities however he tried to cut him off and disown him..

..He never woke up the next day. Broly had killed his father savagely for trying to abandon him. Stating to his father's corpse that only Broly was allowed to say when his father left him and mentioning that time was now. A few short bloody years later.. Broly was gunned down by an armored swat team while committing a mass homicide in the city of New York guided by a Tomoshibi. They had surrounded him and forced him to surrender but Broly, being Broly, charged forward to try and kill some of the swat members, which he did manage to kill a couple, only to be shot in the head by Dino who would not tolerate any more loss of life from his team.



Sinner's Rebirth


Broly screamed in bloody rage in his death. Hell burned him and tortured him and showed him the images of his victims while forcing the feeling of regret into his core..and he just screamed with bloody rage until one moment he saw an escape. He didn't know what it was or how.. but he swore on his very soul he would escape this torment so that he could continue his favorite hobby, Violence, and reached out for it.

A moment later the massive hand that belonged to Broly came out of the Cauldron of Rebirth and soon the rest of Broly came after..falling over the side and laying on the ground as the mammoth of a man, his increased size due to being a sinner, breathed heavily and tried to gather his bearings.. He realized he was in hell..yes he was definitely dead..but he needed to know why he wasn't bound in that torment anymore.. Was he allowed to commit violence again? Was this his desire being fulfilled?

The man rose and roared with hatred and evil as his body slightly bulked further and his power came to him. Yes.. he could do it.. he could use this new body to ravage the world, but was there a way out? Broly spent several days wandering around before he found someone. Apparently no one had expected a new sinner that day and thus he had not been greeted.. This sinner, one Kaze Lisola, told Broly everything about what he was and what he could do now. Broly simply started laughing.. This man had told him he could go and have more fun with violence.. and he sounded so genuine that Broly believed him.

So he worked..and he worked..and HE WORKED.. Until he could FINALLY leave hell for the world of the living! He would make them suffer! He would make them ALL SUFFER! But one man stood in his mind more than the others..yes..that man the one who had SHOT BROLY! He thundered with hatred as he remembered the name of that man.. Tomoshibi...

~~~~~~~~~~~~~

Theme:




Last edited by Rena on Thu May 04, 2017 12:42 am; edited 4 times in total