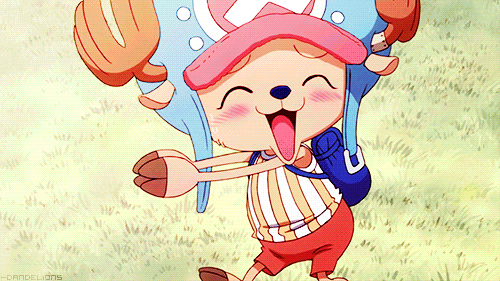 ---
CHOPPER
---

Name: Tony (Chopper)

Age: 15

True Age: 15

Sex: Male

Personality: Chopper is naïve and extremely timid towards unfamiliar people, often acting like a child because he does not know any better. He is easily impressed at things like beams, cannons and hidden abilities, E.T.C. He is a coward at times, although his cowardice can be attributed to his childishness and overall lack of trust in his own fighting skills. Chopper is more or less on a journey to define himself. He is a very Kind hearted and Bubbly person, often very Optimistic about the world.

He is an upright friend and companion who will try anything to overcome a task given by a friend. He still has a feeling of distrust for people from his youth, and will often outright insult and claim that compliments do not make him happy even though he is obviously happy about it. When such instances occur he seems to do a little dance.

Chopper is a very idealistic person, which is why he often can encourage others to follow their heart and feelings. Chopper also seems to be very forgiving of those close to him. He prefers not to hold grudges and instead let things go. Although as a child he doesn't always seem to do this. In the case that someone was to make fun of him, he wouldn't let it go. Chopper is also very playful, which makes him appear even more like a child.

His dream is to become the best doctor ever and holds the belief that there is no incurable disease, and to become a doctor that can cure any illness. To this end, his childish nature vanishes whenever his medical skills are required; he does not hesitate in the least in any actions regarding the well-being of his patients. Chopper also has the strong belief that a doctor is supposed to help save people, and becomes angered when somebody treats life without the proper respect.

One of Chopper's habits when he meets new people is his reverse peek, where he stands behind a wall or a doorway and peeks at people, trying not to be seen by them. Unfortunately he is not hiding his body behind the wall, as a result his body is visible and only one half of his face is hidden. Which could be considered funny by people.

Chopper also tends to panic quickly, and subsequently let some crucial facts slip his mind. One example of this is when there is someone who is injured, he often panics and screams "Call a doctor!!". It is not until he figures out that he is the doctor that he starts to tend to the injured person.

Chopper being a young individual is highly influence by his friends. Often taking traits from them, and sometimes trying to copy them. He also seems to refer to his friends as cool. Although a running joke with chopper is that he will believe just about anything he hears, making him easy prey fro pranksters.  


---
CHARACTER APPEARANCE
---


Height: 90 cm (2'11½")

Weight: 16 Kg

Physical Traits:
Spoiler:
---
FIGHTING STYLE
---

General Fighting Style: Surprisingly for such a Timid and childish person, Chopper is more than just a cute reindeer. He has various transformations, which each offer strengths in situations Chopper is put into. If he ever needs Strength, there's a transformation for it. If he ever needs speed, there's a transformation. If he ever needs Defense, there's a transformation for it.

His fighting style changes depending on what form he is in, as to equate to there strengths and weaknesses. Meaning it can be quite hard to determine what his fighting style is in the first place.

Choppers vast knowledge of Doctoring allows him to know weak points around the body. Meaning he can use this to his advantage. Targeting the vital area's of his opponents as to quickly incapacitate them. Although Chopper prefers to leave his opponent alive, this does not mean the little cute reindeer won't hesitate to kill.

Strengths: (All Physical Attributes are dependent upon which form he holds) Willpower, High pain tolerance, Hand-to-Hand combat.

Weaknesses: (All Physical Attributes are dependent upon which form he holds) Range, Swordplay.


---
PRIMARY STAGE
---

Ability Name: [Name of power]
Description: [Describe what your ability does]

Ability Name: [Name of power]
Description: [Describe what your ability does]

Ability Name: [Name of power]
Description: [Describe what your ability does]

Ability Name: [Name of power]
Description: [Describe what your ability does]

Boosts: x2 All


---
SECOND STAGE
---

Ability Name: [Name of power]
Description: [Describe what your ability does]

Ability Name: [Name of power]
Description: [Describe what your ability does]

Ability Name: [Name of power]
Description: [Describe what your ability does]

Ability Name: [Name of power]
Description: [Describe what your ability does]

Boosts: x3 All


---
HYPER-MODE
---


Ability Name: [Name of power]
Description: [Describe what your ability does]

Ability Name: [Name of power]
Description: [Describe what your ability does]

Ability Name: [Name of power]
Description: [Describe what your ability does]

Ability Name: [Name of power]
Description: [Describe what your ability does]

Boosts: x4 All


---
BACK-DROP
---

Background: [Your character's history]

Side Notes: [Anything you left out, put it here]

RP Sample: [Show us what you got. Rp with your character that you are applying for.]